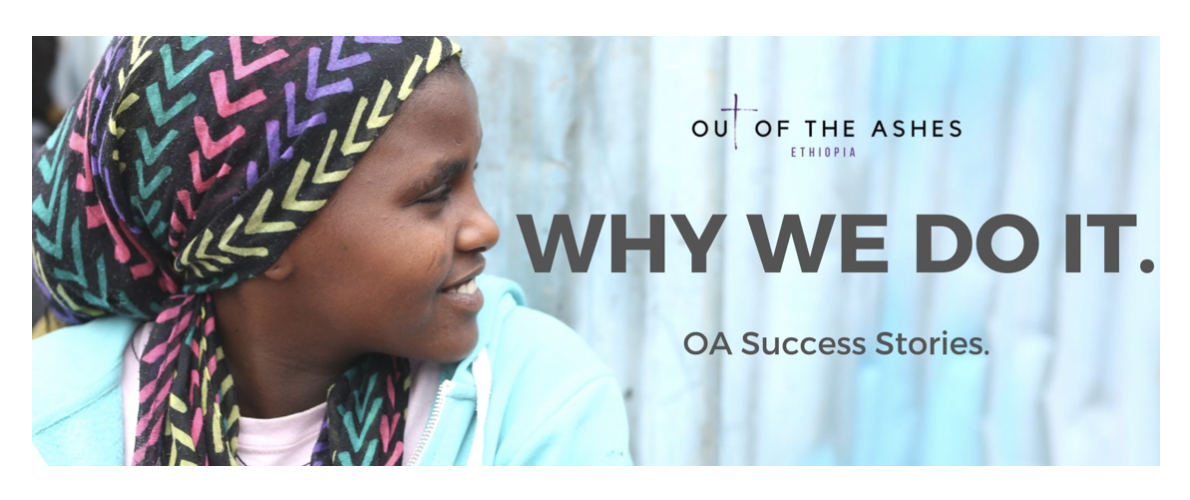 Endalu's Story.
Post-graduation, Out of the Ashes, Inc. Students receive ongoing access to our staff during what we consider to be a"transitional phase" of Sponsorship.
During this six-month period, counseling services and life-skills training are offered to the graduates.
One important activity that takes place during this time, is that our Staff oversee walking our graduates through mock-job interviews to prepare them for successfully seeking and securing a job.
We received this PROUD report from our staff last week, detailing the story of one recent graduate's journey from graduation, through the transition period, to officially being hired at a job.
This is Endalu's Story.
Endalu Chekol is one of OA's recent graduates. She studied all the way through level 4 or Accounting at Ayer Tena Business College. She has been supported by OA for 9 years. She is happy about her recent accomplishment and grateful for OA.
When Endalu was about to graduate from college, she got career guidance from OA which included training on job searching, resume preparation, and simulation interviews.
Endalu was recently hired as a Junior Accountant for another local charity program that serves in Korah. In the beginning, she had joined the charity as an intern to receive on-the-job training. While interning, she assisted the finance department by recording financial transactions and assuming other tasks as needed.
After she worked as an intern for a few months, she got hired as the storekeeper in the same organization. While she was a storekeeper, a job opening came for the role of Junior Accountant, so she submitted her resume and took the entrance exam and got promoted to the position of Junior Accountant. This accomplishment will help her to gain critical job experience that will give her access to many more opportunities going forward!
This is what Endalu said when she came back to pay her gratitude to us when she got her Junior Accounting job:
"I came here to thank you! The interview session was exactly like the simulation interview I had with you. I was not scared at all when I went for the interview because I was well prepared with your help. Most of the questions I encountered in the interview session were the same as the simulation interview except for one finance-related question. I doubt if I would have gotten the job if it was not for the career guidance session.
I am very grateful for OA. I would not be where I am today if it was not for OA's support. I would not even graduate from high school let alone college. I would like to thank everyone who helped me from my childhood until now. Our neighborhood is very tough. It does not encourage us to learn and aspire to big dreams. So, joining OA was like a turning point for me. I am so happy I got here. I will keep pursuing further education and grow professionally. I am confident that I can achieve anything now." (Endalu Chekol)