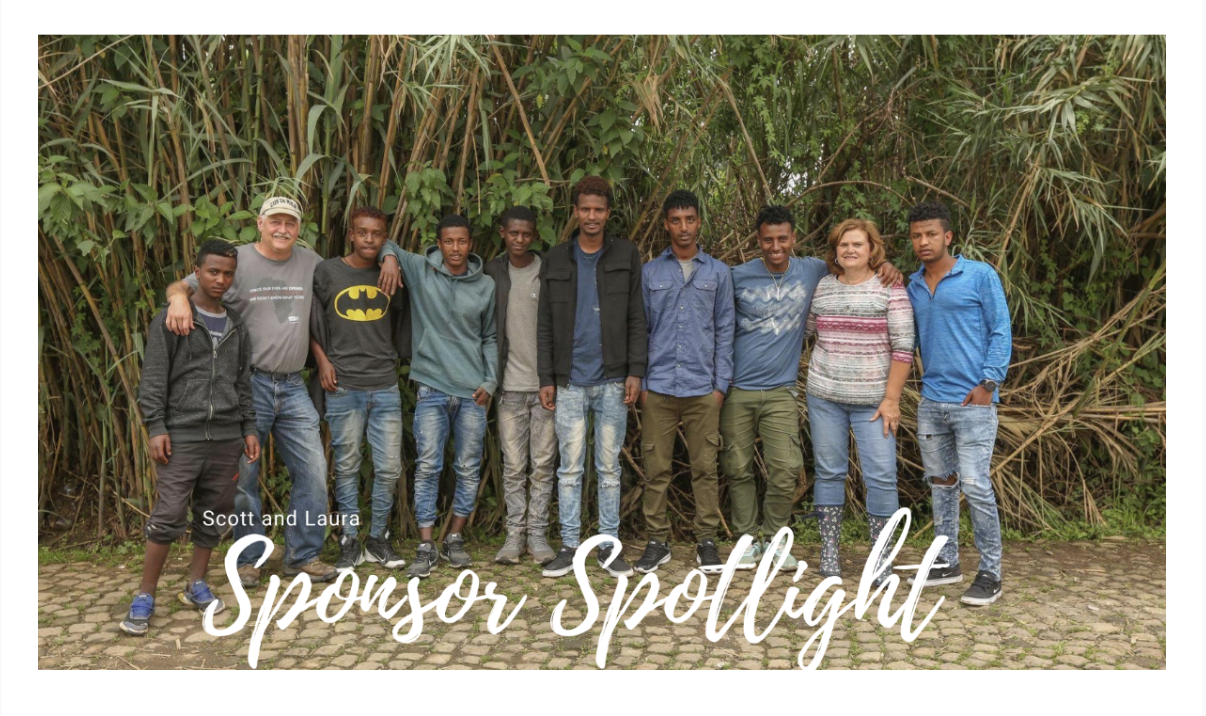 Sponsors are the backbone of the Out of the Ashes educational mission, and today we'd like to introduce you to longtime Sponsors Scott & Laura.
"It is impossible to imagine all of the differences your sponsorship will make in a child's life. Without sponsors, there are many barriers to attaining a life worth living. With sponsors, there are golden opportunities for full and fruitful growth".
Meet Scott and Laura:
"We have been married over 40 years and have 4 adult children with 8 grandchildren.
We live in NE PA and own a car business (Yes, OA even allows car dealers to travel with them).
We have been involved with OA since they started in 2013.
One of our daughters, Ashley traveled to Korah on a mission trip in 2012.  She came back a changed person.  No longer was poverty in Africa without a name or face.  She inspired our family to get involved, which we did by sponsoring 10 children through OA.
When we ourselves felt God nudging us to go on a mission trip in 2014, we decided to travel with OA.  This was our first-ever mission trip and believed it would be a once-in-a-lifetime trip!
Well, not quite!
We are now planning our 7th trip in July.
In 2014 we were following our money to see if it was being invested as advertised. What we discovered once we were there was amazing!  We heard and continue to hear the same story by the OA kids:
1) I was rescued from the dump.
2) I was given food, clothing and shelter. 
3) I was put in school 
4) I was introduced to Jesus Christ.
Always told in that order, both physical and spiritual needs were being met! Kids lives were being changed!
We had the blessing of meeting and interacting with each of the kids and often their families.  It was inspiring and life changing for us to see what a difference OA makes in the kids lives.
It's always humbling to see how much it means to them to actually meet their sponsors.  It makes them feel valued to know someone traveled 1/2 way across the world to visit them.  It gives them hope that they can actually rise above their circumstances.
One of the neatest things we have experienced is to see kids that have graduated from the program use their education and become employed.

We have seen teachers, counselors (some hired by OA), engineers, lawyers and authors.  We have seen many give back to their own community.  One of the kids we had the privilege of sponsoring invited us to the school where he now teaches English.  It was a moving experience as we sat there and were introduced as his Mom and Dad. He explained to the class how we had changed his life.  He is now giving back and helping other children living in a nearby shelter.
We sincerely believe your involvement will change children's lives, but we are also convinced that your involvement will forever change your life!  It won't necessarily make it easier, but it will make it better!
Jesus said, "I came to give you life and give it more abundantly!"
Getting involved in helping the poor and destitute has certainly helped us experience the abundant life Jesus promised!
A couple of verses that immediately came to life for us on our first visit to Korah, include James 2:15-16:
"Suppose you see a brother or sister who has no food or clothing and you say 'Go in peace; keep warm and well fed,' but do nothing about their
physical needs, what good is it?"
What good would it do to walk through the streets passing out tracks to all the poor, hungry, cold kids?  It may do some good, but this passage teaches we need to take care of the person's physical needs first to have the platform to introduce them to the One who can meet their most important need: Jesus Christ.
Another verse that has taken on new meaning for us because of our Ethiopian involvement is Luke 16:9:
"Jesus said, 'I tell you to use your earthly resources to benefit others and make friends.  When your earthly possessions are gone, those friends will welcome you into their eternal homes'."
God has given us earthly possessions that He is allowing us to take to Ethiopia and help those in need and make friends there.  God has given us the blessing to be able to go into their humble, often 1 room, dirt-floor homes and deliver groceries.  We sit down, share popcorn and coffee (their traditional hospitality), and pray with them.  This passage teaches that He will turn it around and bless us.
We visit modest homes in Korah, but when these friends welcome us into eternal homes, we will be welcomed into mansions.
One of the many blessings of traveling with this group is the end-of-the-day sharing.  We share the day's highs and lows (laughter and tears) as we sit around the living room of the guest house. We build relationships with our fellow travelers, but also with the guest house staff, van drivers, interpreters, and staff of other Korah ministries.
We look forward to future visits, not only to interact with our sponsor kids but to connect with the Ethiopian family we have made.
We highly encourage anyone to get involved in God's work and travel with OA!
God has drastically changed our lives for the better because of OA and our Ethiopian experiences.