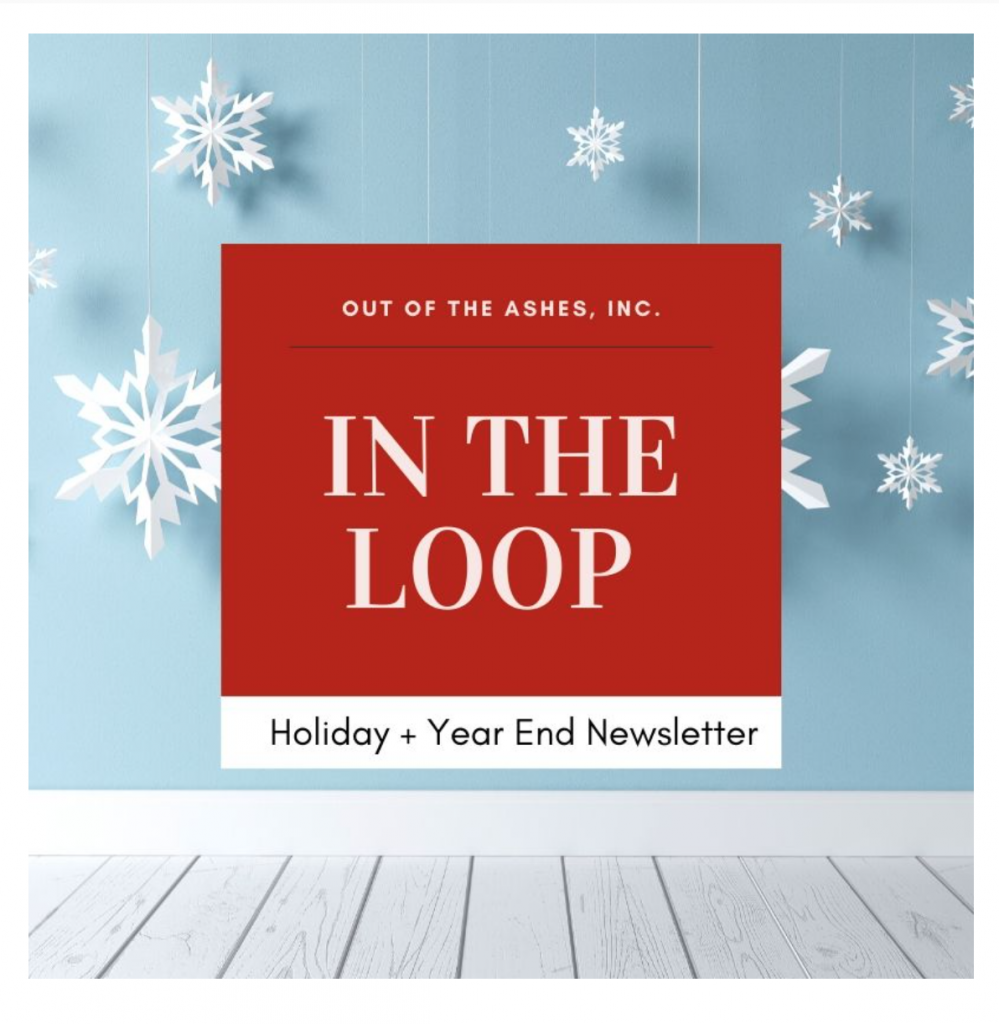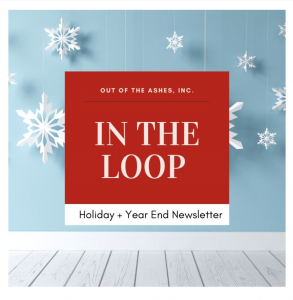 "And so the Living Expression became a man and lived among us! And we gazed upon the splendor of his glory, the glory of the One and Only who came from the Father overflowing with tender mercy and truth!" – John 1:14 (TPT)
Can you believe the Holiday season is upon us?  We can't! As we ramp up our schedules with the usual family gatherings and festive parties, we just wanted to take a pause to say THANK YOU for your partnership with us for the past year.
We invite you to celebrate the goodness of the best gift of all, Jesus. This year we are again asking for you all to send hoodies or jackets to us ahead of our January trip as a Christmas Gift for your Sponsor Student. You will be receiving an email soon with detailed instructions on how, where, and when to send us your gifts.
In addition to hoodies and jackets, we always ask that you take a moment to write to your Sponsor Student and include a family photo as well. We know life is busy this time of the year. You might be wondering, "What difference does this make to these kids?"
Below, you can read a heartwarming story that happened this past summer as we witnessed one of our Sponsors get to go on a home visit to her Sponsor Student's house. The family revealed how much they treasure each gift. We have included a section with some great letter writing prompts for you to get you started on writing that note to your student.
Rest-assured that it matters. It all matters. It matters very much!
With Love and Anticipation of a Blessed Year to Come,
Brad & Stacy Segebarth
The Out of the Ashes Team
__________________________________________________________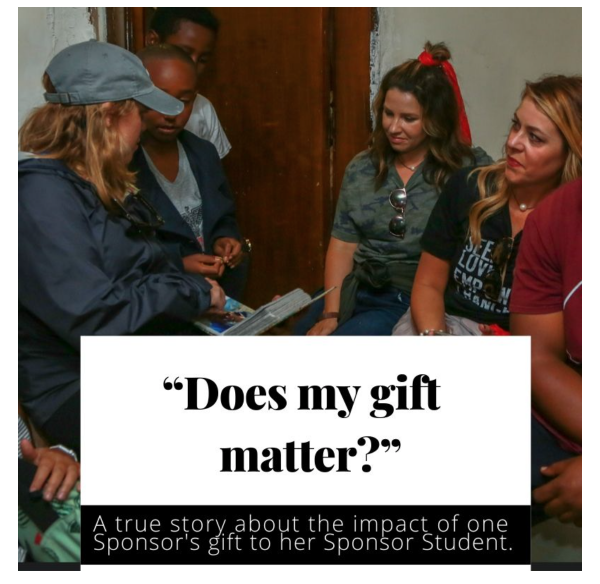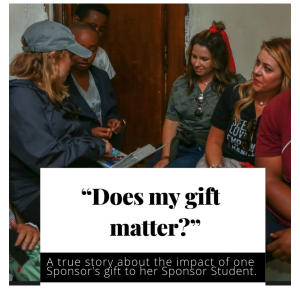 Every January and July when we take teams into Korah, we make it a high priority to visit our Sponsor Students' houses. Not only does this show great honor to the family of each Sponsor Student, but it allows those who are Sponsors on the trip to make a meaningful connection with the Student and their family. They see firsthand how their Sponsorship has affected the entire home.
This past summer, one of our team members, Katherine Spencer stepped into the home of her Sponsor Student. Her student's sweet mother was eager to greet us. We poured into their one-room home.
She proudly served us Buna, a coffee ceremony consisting of roasting coffee beans and making coffee in the presence of guests while sharing stories and visiting. The coffee is then served with popcorn and is a time-honored tradition in Ethiopia.
As we sat and enjoyed our Buna, Katherine's Sponsor Student, Nahome, went to the center of the room and pulled out a decorated box. You could tell by the way he and his brother were excitedly speaking about this box and how proudly they were carrying it, there was something of great value to them inside. They were eager to share it with us.
They brought the box over to Katherine and opened it. Katherine gasped. Inside was the photo album she had sent a few years prior as part of her Sponsor Gift. Tears filled her eyes and those of many of us in the room as Nahome sat with her.
They went through the album one page at a time, asking questions about her family and the photos included in the album. Nahome told Katherine that this was his treasure. He was so thankful for it that they had put it in a special box that they kept in the center of their home for safe-keeping.
If ever there was a moment of clarity for those of us in the room with regard to "Does my gift really matter to these kids?" This was it.
We know that this time of the year is busy. We really wanted to encourage you that taking the time to print out a few photos and putting them in an album makes a difference not only to your Sponsor Student, but to their family as well. It shows them that they are seen, known, loved, and matter to you.
So, if you are tempted to pass on this activity, don't. Think of sweet Nahome and his treasure. Take a few minutes out of your schedule to create a treasure for YOUR Sponsor Student. It matters.
__________________________________________________________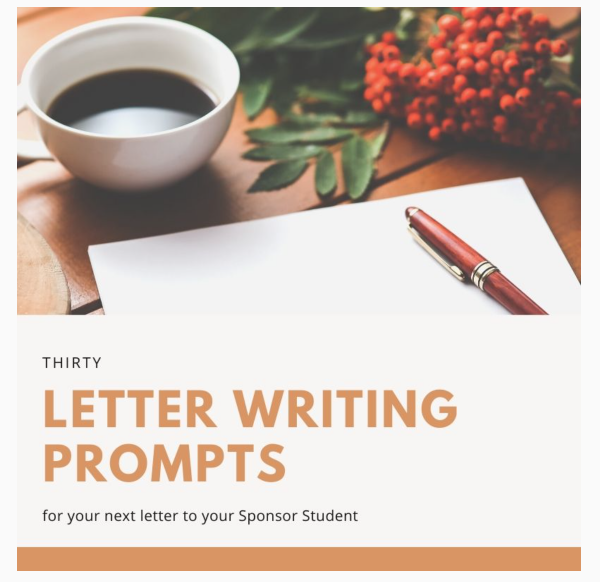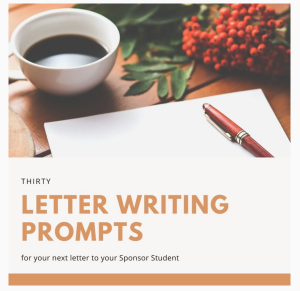 Every year we ask you as Sponsors to write a letter to send with your gift to your Sponsor Child. We wanted to take a moment to encourage you about how much this seemingly small gesture means to these kiddos. Not only does it help them get to know you, but it is often something they carry around with them as encouragement for days to come.
They love to share it with their friends and family. Not only that, but it encourages the RELATIONSHIP. It helps them to engage with you on a regular basis.
It can be hard to know what to write, though. With that in mind, we wanted to take a moment to give you some tips on how to write a meaningful letter to your Sponsor Child. A general guideline is to use this GREAT acronym to guide you.
G — Greetings
R — Remember something your sponsored child has said and build on it.
E — Explain something about yourself or your world. This is where our letter-writing prompts come in.
A — Ask your sponsored child a question. The letter-writing prompts work here too. Just turn them around.
T — The End! Say your goodbyes. This is a great place to share a Bible verse or a word of encouragement.
Letter-Writing Prompts About Your Childhood
What activities did you enjoy as a child?
Whom did you admire as you were growing up? Why?
Did you grow up in church?
How did you come to know Jesus?
What was a challenge you had to overcome as a child or teenager?
What was your favorite part of school?
Letter-Writing Prompts About Your Life Today
What do you do at church, work, or school?
What do you like most about your hometown?
What are some interesting facts about your state, province, or region?
What's your favorite holiday?
How would you describe the sights, sounds, smells, tastes of that holiday?
What's one of your favorite Bible stories or passages? Why?
Letter-Writing Prompts About Your Family
What are your closest family members like?
What happens when your extended family gets together?
How has God been faithful to your family?
What prayers has God answered in your family?
What's your favorite thing about your family?
Letter-Writing Prompts About Your Spiritual Life
How has God recently answered your prayer?
How have you sensed God's leading at different points of your life?
Who is your spiritual role model?
How has God comforted you in trouble?
What do you believe are some of God's purposes for your life?
Letter-Writing Prompts About Your Sponsored Child
What is your prayer for your sponsored child?
How do you remember the child throughout the week or month?
Why does this child matter to you?
What have you recently learned about the child's country?
What do you hope the child will learn about God or spiritual life? This could be a truth or skill.
What do you appreciate about this child?
Comment on a recent letter, the child's prayers for you, artwork in a letter, smile in the photo, or something else.
What do you want your sponsored child to remember when facing discouragement?
What concern of yours would you like your sponsored child to pray about?
What do you think about the child's latest letter or picture you received?
How has being an OA sponsor changed you?
__________________________________________________________